Art of diplomacy: State gifts in the Istana's collection
How do countries say that they care, and respect one another? A thoughtful gift exchanged between world leaders could reflect just that. Take a closer look at the gifts Singapore has received from other nations, from a durian-shaped bowl to a porcelain vase with the Marina Bay skyline painted on it.
For centuries, the exchange of gifts among foreign leaders has been a tradition closely tied to the delicate work of international diplomacy. Often formally presented during state visits and courtesy calls, diplomatic gifts are known to have the potential to forge closer ties between nations.
Singapore's leaders, including its presidents and prime ministers, have both given and received numerous items throughout the country's history. There are more than 1,000 state gifts in the Istana's current collection, with some even dating back to before the nation's independence.
One of the oldest gifts in the collection is a small cigarette box that was given to Yang di-Pertuan Negara Yusof Ishak in 1961 by the governor of Penang. Most gifts in the early years, however, were often bigger and more elaborate. For instance, then-Indonesian President Suharto had once presented founding Prime Minister Lee Kuan Yew with a teak wood coffee table and two rattan chairs.
The presents exchanged today are much smaller and simpler, though they continue to bring vibrancy and variety, while retaining the distinct traits of the places they come from. They are also very telling of what is valued in a country. And while it is Singapore's leaders who are presented with the gifts, they do not keep these for themselves. Rather, they accept the gifts on behalf of all Singaporeans.
Singapore's gifts to other countries are similarly meant to show the best of its local creations. Know of home-grown crafter Bynd Artisan and lifestyle label Supermama? Some of their works, such as customised leather goods and ceramic plates, have become a treasured symbol of Singapore's personal and enduring friendship with other nations.
Now, get the chance to view up close in augmented reality some of the state gifts that our Singapore leaders have received.
ASEAN
---
BRUNEI
A showcase of Malay metalsmithing
Brunei's Sultan Haji Hassanal Bolkiah Mu'izzaddin Waddaulah presented this gift to then-President Tony Tan Keng Yam during a visit to the Singapore Airshow on Feb 12, 2014.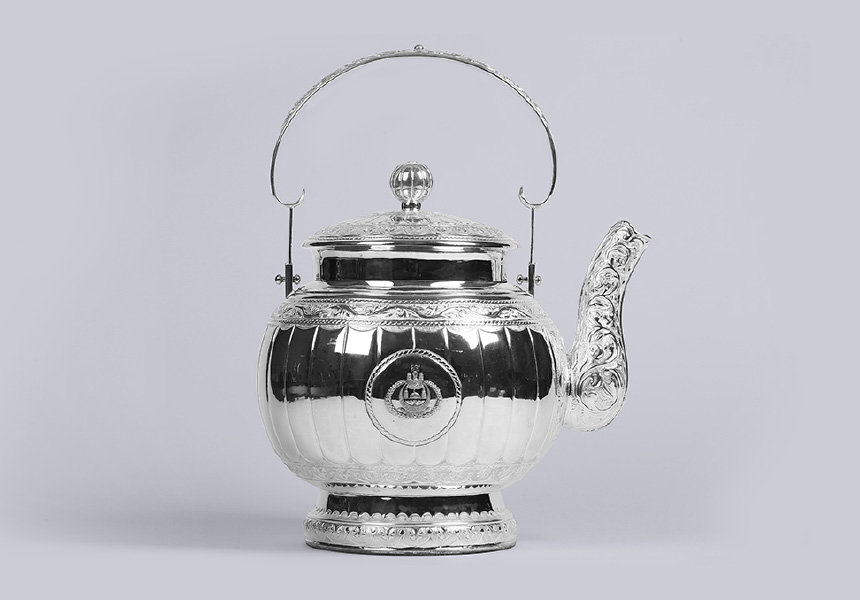 27.5 x 22 x 34.5cm
A testimony to the long tradition of Malay metalsmithing, this silver-toned kettle has a slightly compressed spherical and fluted shape, and is embellished with vegetal and floral motifs. A closer look will reveal the royal emblem of the Sultan of Brunei inscribed on one side.

Such vessels would have been considered as heirlooms and symbols of wealth and prestige. And in the 18th and 19th centuries, similar kettles would have been used to dispense water for handwashing before and after meals or during ceremonial events.
---
CAMBODIA
Lion and garuda vessel from King Norodom Sihamoni
His Majesty King Norodom Sihamoni presented this gift to then-President Tony Tan Keng Yam during Dr Tan's state visit to Cambodia in 2017.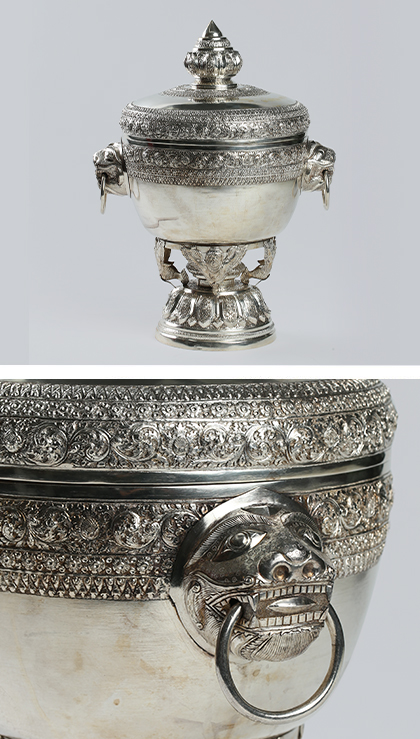 This ornately decorated silver vessel is encircled with richly decorated borders of traditional floral and repousse motifs. The pedestal bears a lotus-designed band, with three garudas on the upper vessel.
The knob of the lid completes the lotus design. Engraved on it is a message stating that it is a gift from the King of Cambodia. Two lion heads in relief serve as side handles.
---
INDONESIA
Lacquer boxes inspired by Balinese philosophy
---
LAOS
Model Khaen, the oldest instrument in Laos
Then-Laos National Assembly President Pany Yathotou presented this gift to then-President Halimah Yacob while the former was in Singapore for the 39th General Assembly of the Asean Inter-Parliamentary Assembly from Sept 3 to 7, 2018.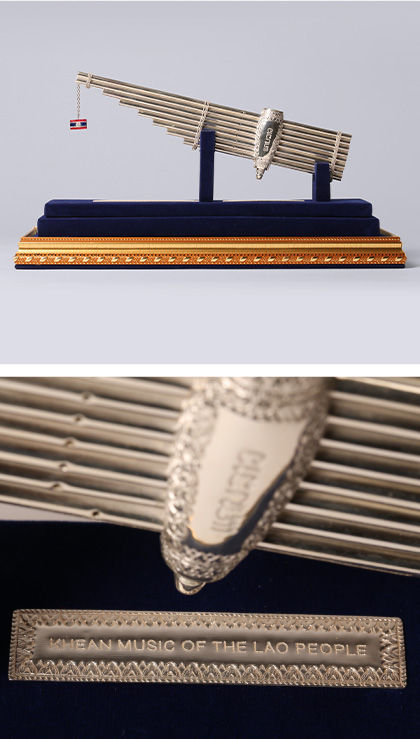 45 x 15 x 23cm
This is a model of a khaen, a 4,000-year-old musical wind instrument made of bamboo with varying lengths. It has a reed for blowing, much like a mouth organ.
It is believed to be the oldest musical instrument in the country, and has long been an integral part of festivals. In 2017, it was added to Unesco's Representative List of the Intangible Cultural Heritage of Humanity.
---
MALAYSIA
Tepak sirih set for the traditional pastime of betel nut chewing
Malaysia's former Yang di-Pertuan Agong Tuanku Alhaj Abdul Halim Mu'adzam Shah ibni Al-Muarhum Sultan Badlishah and his wife presented this gift to then-President Tony Tan Keng Yam during their state visit to Singapore in May 2014.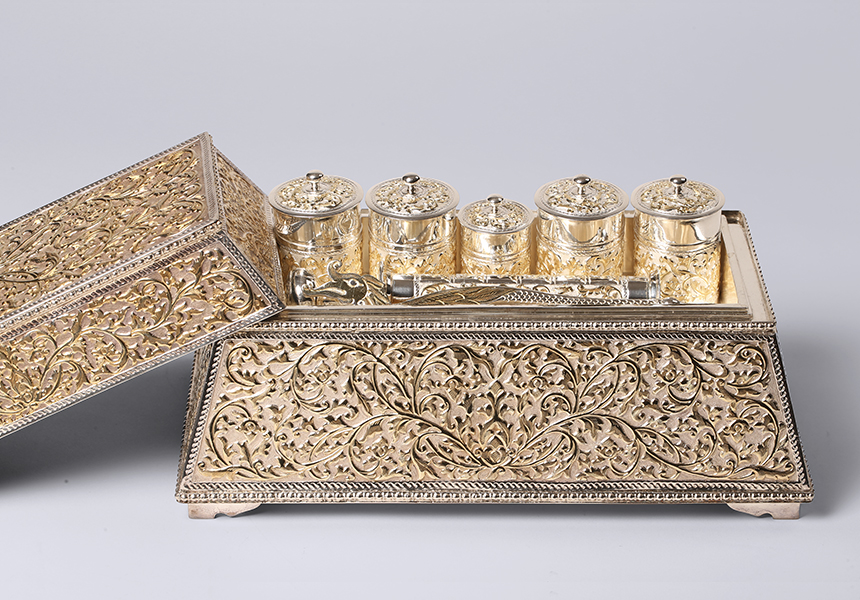 31 x 17 x 15cm
This traditional set is used to organise the necessary ingredients in preparing betel or areca nut for chewing, which was once a common pastime in Malaysia and Singapore.
The smaller containers would contain pan leaves, gambier and lime paste, as well as thin slices of the betel nut, which can be cut using the kacip, or slicer, included in the set.
This was the Agong's first state visit to Singapore since ascending the throne in December 2011. The trip was to reciprocate Dr Tan and his wife Mary's state visit to Malaysia in September 2013.
During their three-day visit, they were hosted to a state banquet at the Istana by Dr Tan. They also visited local attractions such as Gardens by the Bay and the Night Safari.
---
MYANMAR
Lime box with scenes inspired by the Ramayana
---
PHILIPPINES
A 'durian bowl' symbolises a promise of happy solutions
Philippine President Rodrigo Duterte presented this gift to then-President Halimah Yacob during her state visit to the Philippines from Sept 8 to 12, 2019.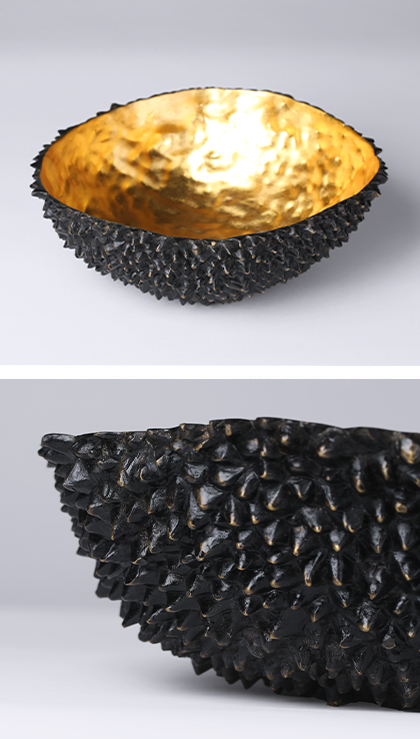 23 x 21 x 8cm
This bronze decorative bowl is shaped like a durian husk and features a gold leaf inlay. The durian is native to Indonesia and Malaysia, but also grows in the Philippine southern island of Mindanao, as well as many other parts of South-east Asia.
This gift is a reminder of how Asians come together to enjoy the flavourful flesh of the fruit when it is in season. While its thorny rind may allude to the "sticky" issues that sometimes surface among friends, its soft golden flesh is a symbol of the promise of happy solutions.
---
VIETNAM
A reflection of the Bays on a porcelain vase
---
THAILAND
Cigarette box fit for a monarch
The late King of Thailand His Majesty Bhumibol Adulyadej and Queen Sirikit presented this gift to then-President S R Nathan in 2005.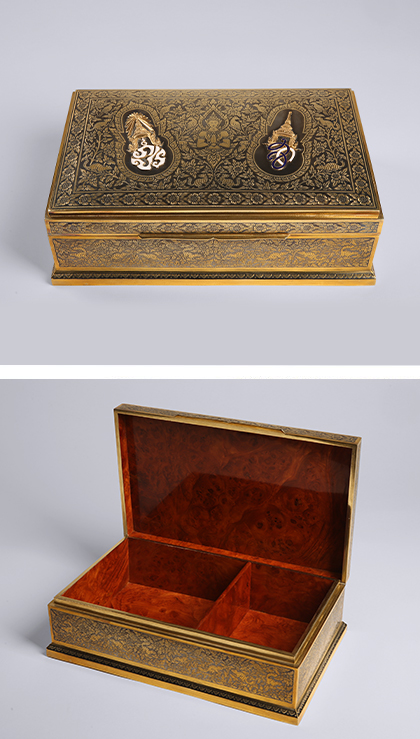 28 x 17 x 9cm
This cigarette box is embossed and filled with niello, which is made from a composite of copper, silver and lead sulphates. Nielloware is traditionally presented by Thai monarchs as gifts, given its symbolic association with power and authority.
This gift bears the royal cypher of the late King Bhumibol and the personal standard of Queen Sirikit. Singapore and Thailand established diplomatic relations in 1965.
ASIA
---
CHINA
Interlacing gold threads
---
INDIA
Gift of glory and poise
Indian Prime Minister Narendra Modi presented this gift to then-President Tony Tan Keng Yam in 2015.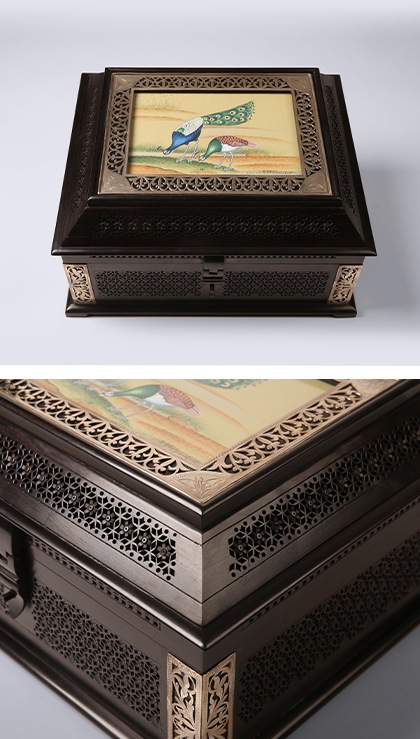 30.3 x 25 x 15.5cm
The box features a pair of peafowls, with the peacock identifiable from its iridescent blue-green feathers. The Indian peafowl is native to India and is also its national bird. The birds are known in the country as symbols of glory, beauty and poise.
The peacock and peahen, seen picking gently through the fields, are a picture of calm and conjugal domesticity. The gift also contains a woven scarf made of wool.
---
JAPAN
Cast ironware craft from 12th century
US/EUROPE
---
UNITED KINGDOM
Friendship etched on silver goblets
Queen Elizabeth II presented these goblets to then-President S R Nathan on her third state visit to Singapore in 2006.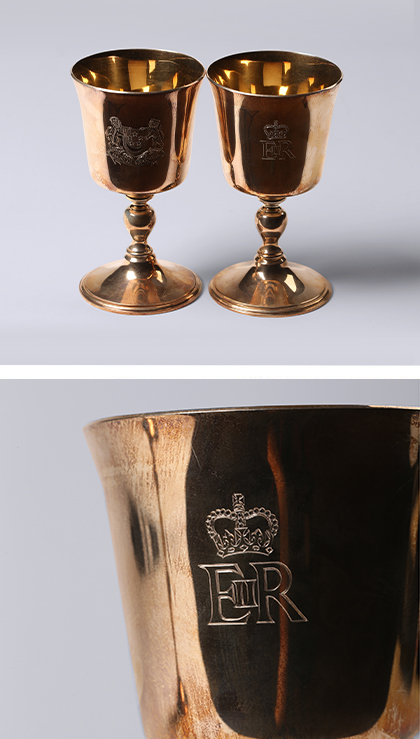 Ø8.5 x 15cm
This pair of silver goblets represent Singapore's longstanding friendship with the United Kingdom. Etched on the surfaces are Queen Elizabeth II's royal cypher and Singapore's coat of arms.
At the back of the goblets are the maker's name, WRA (William R Asprey), the lion passant guardant certifying it to be the highest grade (925 sterling silver), the town mark (London), with the year the piece was verified – "C" (2002).
There is also the Golden Jubilee mark of Queen Elizabeth II. The Queen had made earlier visits to Singapore in 1972 and 1989.
---
GERMANY
Lioness sculpture for the Lion City
German President Frank-Walter Steinmeier presented this gift to then-President Halimah Yacob during her state visit to Germany from Dec 9 to 13, 2019.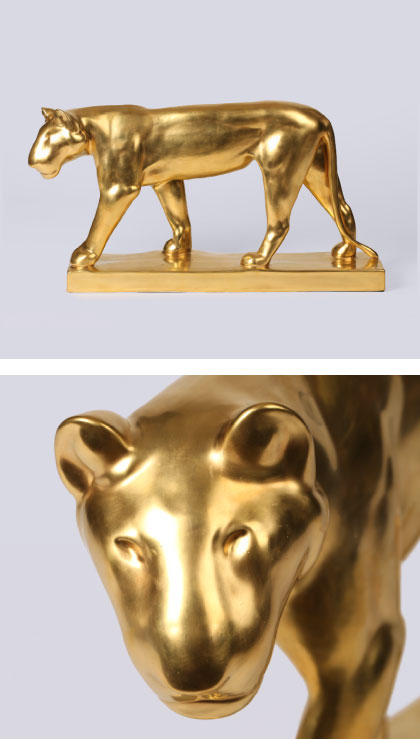 45 x 9 x 24cm
This golden sculpture of a Schreitende Lowin, or striding lioness, is a replica of an early piece by the late German artist Gerhard Marcks, who was a renowned sculptor.
It is an elegant Bauhaus-inspired sculptural work, dating back to 1909. The original issue was a limited set of numbered copies, and made of gold or porcelain glazed in gold. This gift could be seen as Germany's appreciation of Singapore's own history with lions.
---
NETHERLANDS
Tulip plate in classic Delft blue
Dutch Senate President Anneke Broekers-Knol and House of Representatives President Khadija Arib presented this gift to then-President Halimah Yacob during her state visit to the Netherlands from Nov 20 to 24, 2018.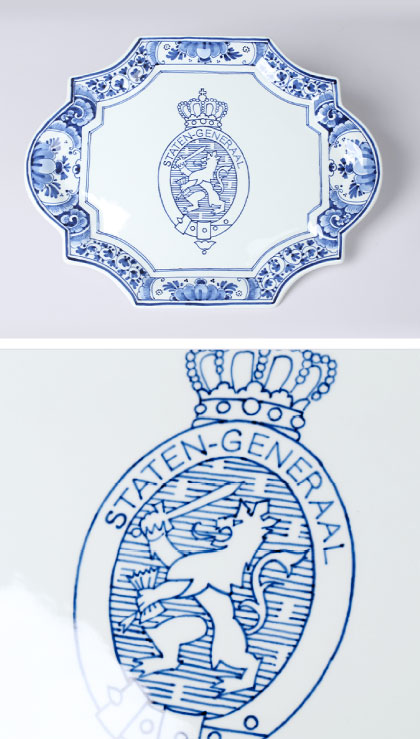 30.5 x 23.5cm
This moulded ceramic plate is first coated with a liquid clay called engobe, before firing. It is then hand-painted with dainty tulip motifs in the trademark Delft blue. Such a method has endured since the 17th century. It was popular among rich families at the time, who would show off their Delft Blue collections to one another.
Staten-Generaal is the bicameral legislature of the Netherlands, which comprises the Senate and the House of Representatives. Both convene in The Hague.
---
UNITED STATES OF AMERICA
Crystal bowl from the Obamas
Then-President of the United States Barack Obama and then-First Lady Michelle Obama presented this gift to Prime Minister Lee Hsien Loong in November 2009.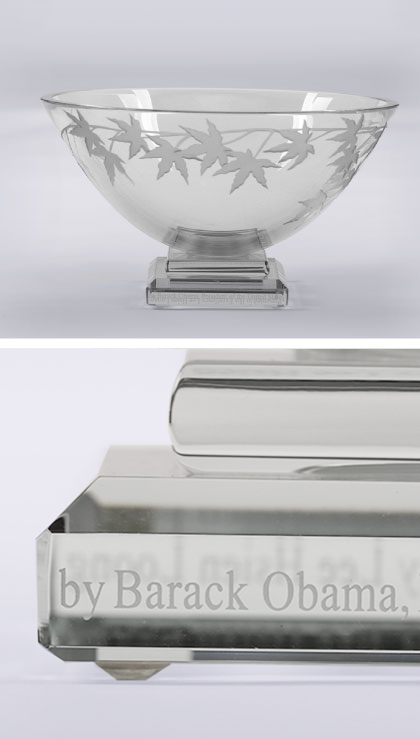 Ø26 x 14cm
This crystal bowl is on a brushed silver base and has etchings of maple leaves decorating it. It is inscribed with the words: "By Barack Obama, President of the United States".
Mr Obama was on an eight-day Asia trip in November 2009 – his first since he took office. He was in Singapore to attend the 17th Asia-Pacific Economic Cooperation (Apec) Leader's Meeting, where the first Asean-US Leaders' Meeting took place on the sidelines.
REST OF THE WORLD
---
JORDAN
Arabic characters in 3-D
---
UNITED ARAB EMIRATES
Iconic mosque in Swarovski crystal
Abu Dhabi Crown Prince Sheikh Mohamed bin Zayed Al Nahyan presented this gift to then-President Halimah Yacob during his official visit to Singapore on Feb 28, 2019.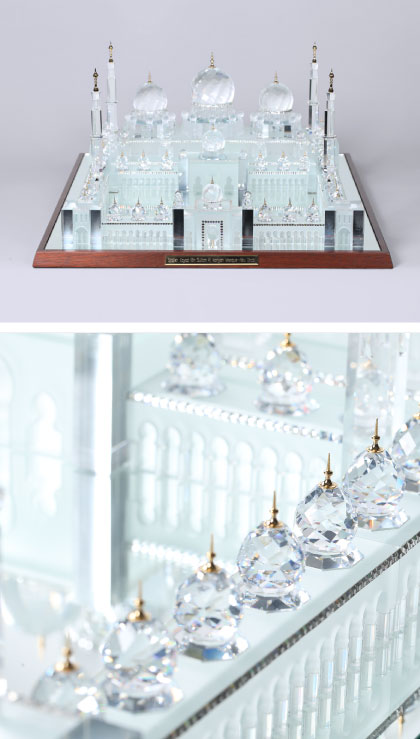 70 x 50 x 30cm
This is a crystal replica of one of the world's largest mosques, the Sheikh Zayed Grand Mosque in Abu Dhabi. The place of worship is a blend of various Islamic architectural styles – Moroccan, Andalusian and Mameluke – and features 82 domes and more than 1,000 columns.
Named after the late ruler Sheikh Zayed bin Sultan Al Nahyan, the mosque was built to convey the Islamic message of peace, tolerance and diversity. Note the various geometrical shapes used to form the minarets. The actual landmark can accommodate up to 50,000 worshippers.
---
SOUTH AFRICA
Bronze bust of 'great warrior leader' from Mandela
---
A look at the gifts all year round

A small selection of Singapore's state gifts is displayed at the Istana's banquet hall and sitting rooms during its five open houses throughout the year. Open house events typically coincide with the Chinese New Year, Labour Day, Hari Raya Puasa, National Day and Deepavali public holidays. You may also go on a tour of the sprawling Istana grounds during your visit.
To get a glimpse of the artefacts at other times of the year, visit the Istana Heritage Gallery located amid the lush greenery of Istana Park. It can be found opposite the Istana's main entrance along Orchard Road. About 20 gifts are publicly displayed there and are curated once or twice each year.
The public gallery also offers special exhibitions showcasing the Istana's rich history and its transition from a colonial governor's house to its role today as the President's official residence. Visitors can also find out more about the President's constitutional, ceremonial and community roles.
Admission to the gallery is free but strictly for organised guided visits only. Please contact the Gallery at gallery_enquiry@istana.gov.sg for more details.