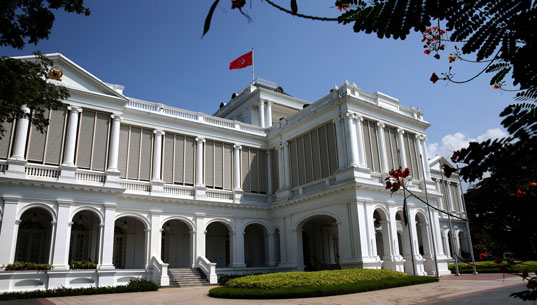 Main Building
The Istana building sits on top of a hill, some 40 metres above the ground. Before the skyscrapers of the Central Business District were built, it was possible to see the Indonesian Islands to the South and the hills of Johor to the North on a clear day.
The Istana is similar to many 18th Century neo-Palladian style buildings designed by the British. With a tropical layout like a Malay house, surrounded by verandahs, louvred windows and panelled doors, cross ventilation allows for a cool and airy interior.
The central three-storey 'one-stage' tower is crowned with a slated mansard roof. It has dormer windows and is embellished with Corinthian pilaster and beautiful cornices. The two-storey side wings are ornamented with Ionic colonnades at the second floor and Doric colonnades at the first storey. A pediment and portico terminates the colonnades at both ends.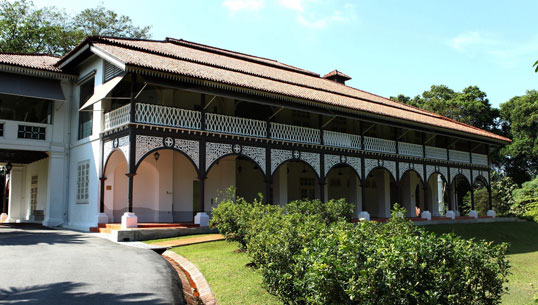 Sri Temasek
Built in 1869, Sri Temasek was the Colonial Secretary's residence. It was designated as the Prime Minister's official residence after Singapore gained independence in 1965.
Sri Temasek is a typical 19th century bungalow. Its unique intricate timber arcade shows a mixture of Eastern and Western decorative motifs. Of particular interest is the Moon Gate on the second level. Typically found in Chinese architecture, it is used as a screen to separate the common verandahs and the private space.
The white Moon Gate was made of chengal, teak and meranti. There are no known records of the Moon Gate, except that it was designed and built by William Swaffield, a pre-war Comptroller of Government House as well as a professional furniture designer.
The Villa
The Villa, built in 1908, was designed in the black-and-white bungalow style which was typical of that period. It served several purposes including as the official residence of the Governor's Aide-de-Camp, the Private Secretary's bungalow in 1916 and the Attorney General's House in 1958.
Until end 1984, the Villa was used to accommodate state visitors. Among its many illustrious guests were Premier Deng Xiaoping of the People's Republic of China, Prime Minister Dr Mahathir Mohamad of Malaysia and Prime Minister Pierre Elliott Trudeau of Canada.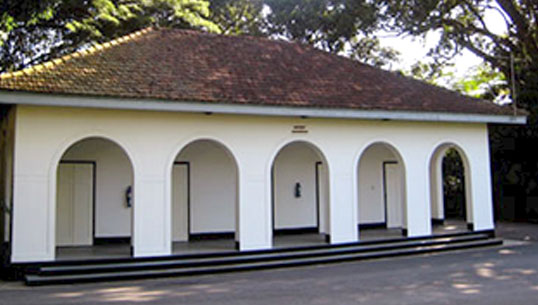 Military Guard Room
The Military Guard Room is sited along the road after the Centre Gate. Built in the early 1900s, its facade consists of an arcade of five arches characteristic of the "hexastyle" architecture. It is used by the ceremonial guards when they are not performing sentry duties.